The sports and entertainment hall construction team in Puławy awarded for safe work
22 December 2021
Mostostal Warszawa, together with the team for the construction of a sports and entertainment hall in Puławy, won the 2nd prize in the "Build Safely" competition.
We received the award together with our consortium member - Mostostal Puławy.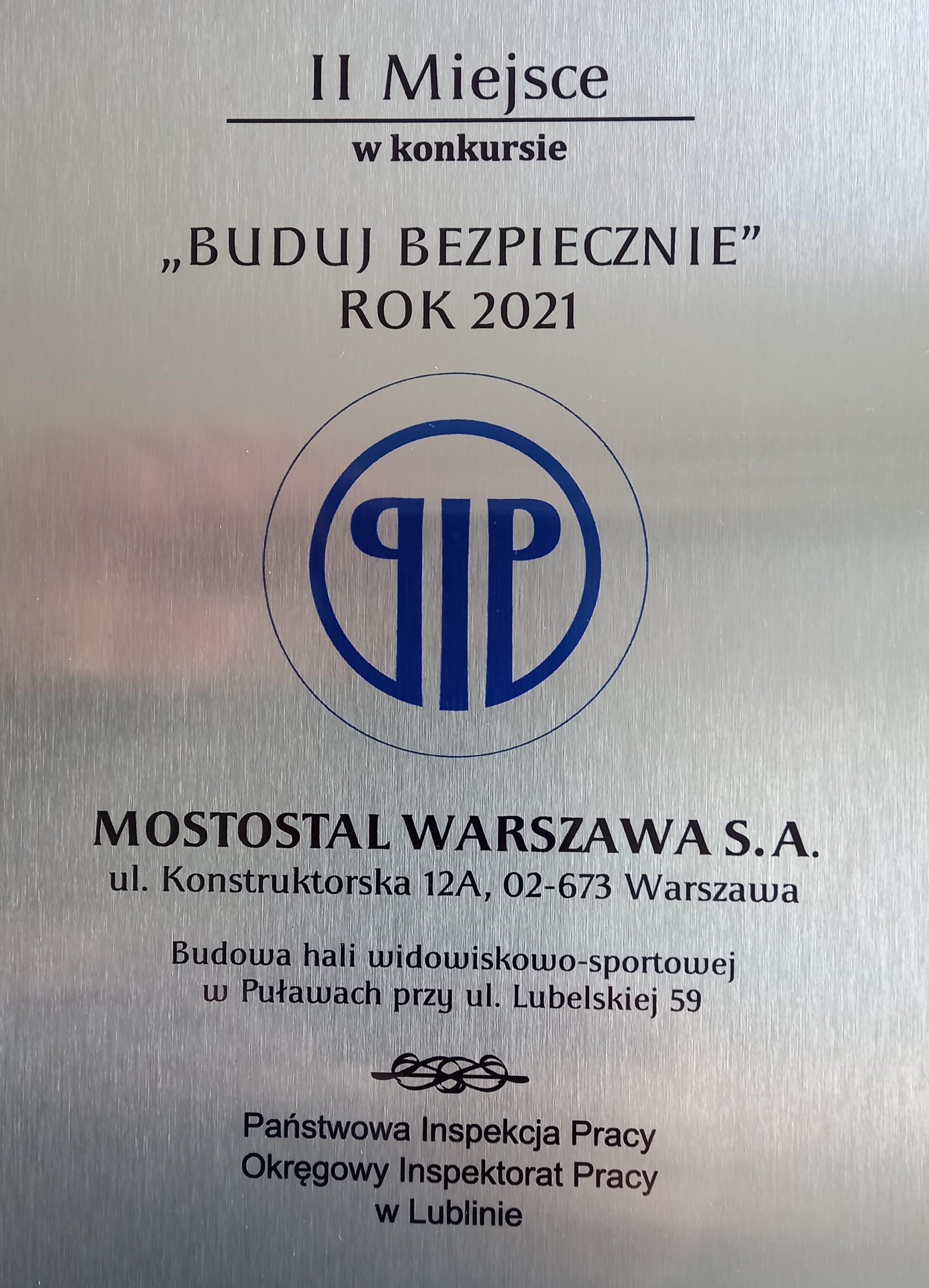 About the "Build Safely" competition
The aim of the competition is to promote employers and contractors of construction works ensuring high OHS standards in the construction process. The competition appreciates the above-standard health and safety measures taken on a specific building structure. Particularly valuable achievements of construction employers who organize their work in a safe manner are awarded. The competition is organized by the National Labor Inspectorate, and the Partner is the Agreement for Safety in Construction.
Sports and entertainment hall in Puławy
The sports and entertainment hall is the largest investment in Puławy for many years. It is located at Lubelska Street, on the site of the former sawmill, and is equipped with 1,436 permanent seats with the possibility of increasing the capacity to 3,200 seats after unfolding the telescopic stands. The facility is a place of training and playing matches for KS AZOTY Puławy handball players (bronze medalists of the Polish Championship), the weightlifting section of Wisła Puławy, and is also adapted to play volleyball and basketball matches. The facility is equipped with separate rooms for martial arts (including Taekwondo) and a gym. There are also rooms for wellness in the new hall. The design of the hall meets the requirements of international sports associations for the organization of matches on a European scale and provides adequate facilities for the implementation of television broadcasts. The concept of the hall was created as part of the work of the hall construction team appointed by the Mayor of Puławy. All interested sports circles participated in the work of the team and the final project contains their suggestions and comments on the functionality.
In addition to sports functions, the hall in Puławy is also adapted to the organization of concerts, exhibitions and fairs. In the hall, there are: a conference room, catering facilities, as well as parking spaces - 288 for passenger cars, 12 - for disabled people, 5 for coaches.
Click to read more about the investment
Investor: Puławy City Hall
General Contractor: Consortium of Mostostal Puławy S.A. (leader), Mostostal Warszawa S.A. (partner)
Contract value with annexes: PLN 102.45 million gross.
Implementation period: 2018-2020
In the photo: the moment of presenting the award. Second person from the right: Paweł Półtorak, Contract Manager on behalf of Mostostal Warszawa.