Our colleague's success in the SIDiR competition
22 November 2022
We are proud to announce the victory of Bartosz Rodak in the 7th edition of the National Competition for Young Professionals organized by the Association of Consulting Engineers and Experts SIDiR.
The competition was aimed at engineers, architects and designers who participated in the implementation of interesting and innovative projects and contributed to the optimization of project costs, implementation time, improvement of work organization or the introduction of technological solutions that improved the parameters of the project. In the competition work, Bartosz described his experiences from the implementation of the Primary School nr. 400 investment in Warsaw's Wilanów district. He focused in particular on the subject of BIM implementation and the benefits of using digital tools for construction management. As the winner, he will be able to publish his work in the form of an article in the Consultant Bulletin. In addition, his application will have a guaranteed place among the five works that SIDiR has the right to submit to next year's edition of the international competition EFCA Future Leaders 2023. Congratulations to Bartosz and we wish you continued success. It is worth mentioning that this is another success in the Digital Transformation Department after winning the buildingSMART International Awards 2022 competition.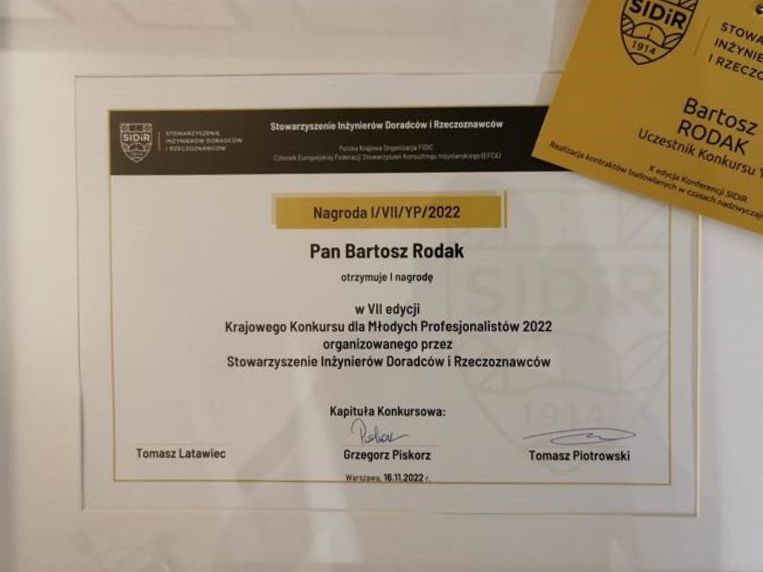 The Association of Consulting Engineers and Experts represents engineers at the national and international level and ensures compliance with the standards of professional conduct adopted by the Association. It implements modern patterns and rules for organizing investment processes, and promotes FIDIC knowledge and standards in the construction sector.
In the photo: Bartosz Rodak
Photo by MW